Hospitality
Acts 28:1-2,7 "After we had reached safety, we then learned that the island was called Malta. The natives showed us unusual kindness. Since it had begun to rain and was cold, they kindled a fire and welcomed all of us round it …Now in the neighbourhood of that place were lands belonging to the leading man of the island, named Publius, who received us and entertained us hospitably for three days"
Well done for sticking with these reflections until Day 6 – you are rewarded with the discovery of the source of the phrase "unusual kindness"!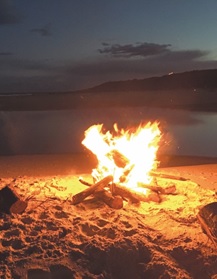 Reflection
I open my door and welcome the newness of  uncertainty.
The presence of possibility resides in the unfamiliar received with outstretched, vulnerable arms.
The gifts brought are for sharing among us, not trading equity.
This stranger and I, we resolve to put warmth in the cold places, compassion in the hard places, hope in the dark places, and peace deep within.
We kindle the fire together and gather for warmth, before the next pilgrim, brings gifts for us all.