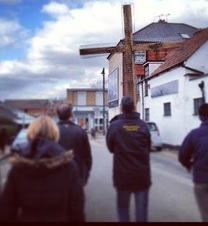 Our joint Good Friday service will be taking place
on Friday 19 April,
at 10.00 a.m.,
at the Methodist Church,
The Walk of witness which takes place in silence, will take place directly after the service and will be ending at the Baptist Church with teas, coffees and hot cross buns.
We would like to request help from anyone willing and able to share the carrying of the cross through the village. Please let Carla Mclachlan know, or let Andrew Mitchell, Sam Hanna, David Greenwood or Ken Perrett know on the morning of the service if you are able to help.